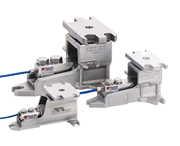 The unique & patented load cell mounting accessory that revolutionises installation, known worldwide as the LeverMount®, is now available up to 2500kg capacity in the 'middle' size. This 'middle' size accessory was previously only available up to 2000kg, with the next available size of 3000kg requiring the larger and more expensive body size (available up to 5000kg).
Now, applications requiring a load cell capacity between 2000kg and 2500kg are more cost-effective for our customers because there is no longer a need to select the larger size of LeverMount® accessory.
The associated load cell, the model T85 stainless steel shear beam, is now available at 2500kg capacity to complement this new mount capacity. The LeverMount® offering is now as follows:
Size 1, LEVERMOUNT-LITE: 5-200kg capacity range, using the T66 bending beam load cell
Size 2, LEVERMOUNT-2.5T: 300-2500kg capacity range, using the T85 shear beam load cell
Size 3, LEVERMOUNT-5T: 3000-5000kg capacity range, using the T85 shear beam load cell
ATEX Approval
Use of the LeverMount® with an ATEX approved load cell is possible from 5-5000kg at all capacities except the new 2500kg capacity.
ATEX approval is available for all zones, with the protection mode 'ta' allowing use in dust zones 20, 21, 22 without safety barriers - which permits a large cost saving compared with other protection modes such as 'ia'.
OIML Approval
Use of the LeverMount® with an OIML approved load cell is possible from 5-5000kg at all capacities.
From 5-5000kg approval to Class C3 (3000 divisions) is possible.
From 50-200kg approval to Class C6 (6000 divisions) is possible (using the T66 load cell with optional OIML C6 approval).
Grade 316 Stainless Steel Accessory
The LeverMount® consists mainly of a cast Grade 316 stainless steel 2-part mounting accessory, with many unique features that underpin the popularity of this weigh module. The grade 316 material allows its use in environments with strict material requirements, such as installations in the food processing and pharmaceutical industries. There is no need for shims during installation, because the stable 3-point mounting avoids rocking or twisting in the mount.
Premium Features at a Competitive Price
The LeverMount® can be used at extremes of temperature, from -30 to +70 degrees C; therefore it is suitable for use in a wide variety of applications without the need for our optional special high temperature load cells. However, for applications requiring use at continuous temperatures of up to +150 degrees this load cell option is available.
As with many of our other products, the LeverMount® and the associated load cell carry a Five (5) Year Warranty against manufacturing defects as a stamp of the confidence we have in our high quality, modern manufacturing processes and individual load cell compensation. We physically test, optimise and compensate every single load cell individually before it is allowed to pass our stringent quality checks.
Our standard industry-leading Polyurethane cable is of course included, which ensures much better cable protection than the industry standard PVC cable in in environments subject to stringent cleaning requirements using harsh chemicals. Protection to IP68/IP69K is assured due to the fully welded and hermetically sealed design that is suitable for wash-down cleaning processes using pressurised hot water - this is often used in meat, poultry and fish processing facilities such as abattoirs and sluaghterhouses.
For extremely demanding applications, where strong chemicals (e.g salt environments) and stress corrosion are a concern, we can supply the T66 or T85 load cell with a special Parylene coating that protects the load cell and significantly increases its working lifetime. Contact us for further details about Parylene coating.
If you would like further information about this unique and very popular mounting accessory, or its possible use in your application, Contact Us now.